About this item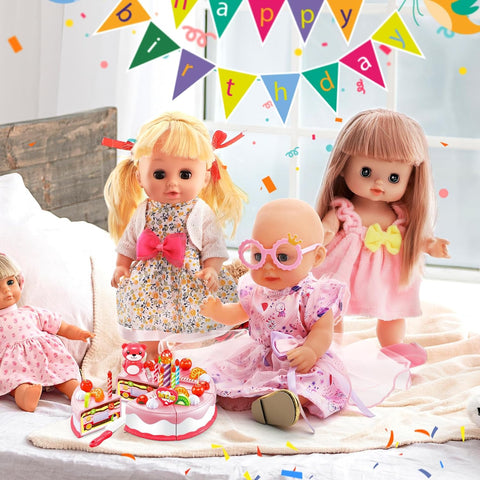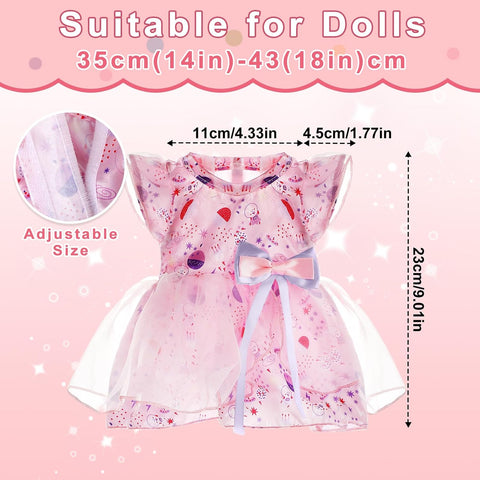 【Unique Design Doll's Party Accessories】 The Doll's birthday party set is unique and comes with a doll's outfit that includes a dress and shoes which makes this set more special. This delightful playset combines the joy of celebrating a birthday with the charm of a tea party providing endless imaginative fun for children.

【Safe & Premium Material】 Our tea party set is designed with children in mind, this set is made with safe plastic materials and does not have any sharp edges that would injure them. It's beautifully designed and will encourage your children to socialize and entertain their guests during their recreational hours!

【Best Gift for Children】 Our birthday tea set with dolls outfit set is great for birthday parties, pretend play, role play, holiday toy gifts, Christmas gifts, and Halloween gifts. It would make the best choice for building parent-child interaction at home or for children having fun with their friends on any occasion.

【Fun for Everyone】 Your little one is able to decorate their very own birthday cake with all of the removable accessories included. Get your little one's creativity flowing with this wonderful play set. Not only does this pretend play toy birthday cake sent with doll outfits offer endless imagination possibilities, but it also fosters important developmental skills. Your child will be able to play with this set alone or with friends and family.

【Package Includes】 This toy set includes a pretend birthday cake split into 6 pieces, 32 cake decoration accessories, 1 x sticker, and a doll outfit which includes a dress, glasses, and shoes. These fun and colourful playcake toys look realistic which will make your child's pretend birthday/tea party play time so much more fun.

Allow your child to host their very own afternoon tea or even their very own birthday party! This set is a great way to encourage them to socialize and interact with other children and family members.

Fun cut-able cake with decoration accessories included, this is a great play set for a little one that loves to create their own fun and host their own parties.

Designed with children in mind, the safe plastic materials and beautiful designs will encourage your children to entertain their guests during their recreational hours!
Fulfilling Activity:
Creativity and Imagination: This cake set allows your child to create their own narratives and stories.

Hand-eye coordination: With the accessories provided, your child is able to easily build their key skills from a young age through play.

Social development: This cake set is a great way to encourage your child to play and have fun with friends and family.